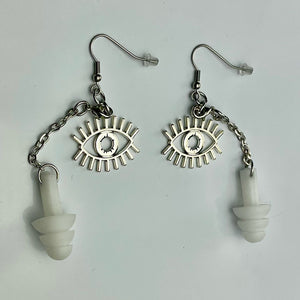 Silver Eye Earplug Earrings
Regular price $23.99 Sale
Silver Evil Eye Earplug Earrings!
Keep your eyes on the prize with these cute silver Evil Eye earplug earrings perfect for protecting your hearing while simultaneously serving looks on the dance floor at your next event! 
Beautiful Earplug Earrings with optional and detachable earplugs for events!

Protect your hearing... IN STYLE as you Rave to the Grave! Its ALWAYS important to protect your hearing at events to help ensure that those beats sound as crisp, loud and clear as the day you started!
Please check out all of my other styles of earrings - click HERE !
Such fun and funky earrings that are perfect for concerts, events and music festivals!

The earplugs can also be detached for the option to wear them as just regular earrings if you'd like!

- - - - - - - - 

Great for events, music festivals, clubs, birthday, friend gifts, for the holidays, or going out on the town!
Available in Unisex designs and with any color of earplug you desire!
Customize your very own pair!
- - - - - -
Light weight and durable!

 Completely customize-able for any charm type or earplug colors and styles!
____________

DESCRIPTION:

* Comes with plastic earring backs.
* Lifetime warranty, satisfaction is guaranteed!
* Need Customization? Include a note during checkout!
* Each earplug can be detached from the earring by simply unhooking the lobster claw.
* Comes with a carrying pouch for safe keeping.
* If you need the chain longer or shorter we can help customize.
* If you'd like a different style attachment for clip-ons, plugs or gauges I can do that style as well.

> Don't see the style, color, or charm that you've been dreaming of? Feel free to reach out for a custom creation tailored to help make your dreams a reality!
___________________
*** Check out our Instagram page below to see pictures of the many different color and style variations to choose from.
Main Instagram: http://Instagram.com/ravefashiongoddess
Twitter: http://twitter.com/ravefshngoddess
Facebook: http://www.facebook.com/RaveFashionGoddess/
TikTok: http://www.tiktok.com/@ravefashiongoddess
Pinterest: http://www.pinterest.com/RaveFashionGoddess/

- - - - - - - - -

Feel free to ask me any questions!