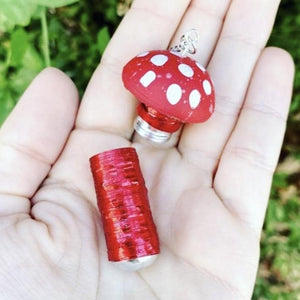 Stash Jewelry
Regular price $69.99 Sale
Custom Stash Jewelry in a Red Mushroom Pendant!
Please check out all of my other styles of stash necklaces click HERE !


Gorgeous shroomie that sparkles in the sun and will dazzle your friends!

"Caterpillar: One side will make you grow taller, and the other side will make you grow shorter"
Alice: The other side of what?
Caterpillar: The mushroom, of course!

-- Alice in Wonderland"

_____________

Beautiful and stunning necklace to for wearing out to an event or music festival, a gorgeous secret gem with many uses! 
Great for birthday gifts, holidays, events or going out on the town!
Available in Unisex designs and also available in any color of the rainbow!
Customize your necklace!

For keeping spices, essential oils, perfume, commemorative sand from places you've traveled, ashes, money etc.
Every stone is placed by hand and the pendant is hard and durable once completed.

____________



DESCRIPTION:


* This necklace is made to order.
* Comes shipped with a miniature funnel for easy filling.
* Every item in my store has a lifetime warranty, satisfaction is guaranteed.
* It comes with your choice of the mushroom cap color and optional plain colored stem or rhinestone stem in silver, A/B silver, red, light blue, dark blue, grey, red or black rhinestones on the base
* It measures 2.5-3 inches inches long, a 3/4 inch thick stem(base) and 1.5-2.2 inch wide cap depending on cap choice.
* The mushroom cap is made from rubber and plastic and is very durable. The base is lightweight aluminum. 
* The top comes unscrewed by twisting the pendant base or the cap counterclockwise in your hand.
* Chain length usually comes in 22" if you would like a shorter/longer length please include that in the order notes as well or send me a message.
* This type of pendant has a larger screw top opening.
* Standard spoon scoop size comes in medium, If you prefer a small or a large scoop please include that in your message.

> Don't see the color stone or chain you like, ask me for a custom creation just for you!!
___________________

*** Check out our Instagram page below to see pictures of the many different color and style variations to choose from.
Instagram: https://www.Instagram.com/ravefashiongoddess/
Instagram: https://www.Instagram.com/StashNecklace
Facebook: https://www.facebook.com/RaveFashionGoddess
TikTok: https://www.tiktok.com/@ravefashiongoddess
TikTok: https://www.tiktok.com/@stashnecklace
Twitter: https://www.twitter.com/ravefshngoddess/
Twitter: https://www.twitter.com/stashnecklace
Twitter: https://www.twitter.com/3rdeyeglasses
Pinterest: https://www.pinterest.com/RaveFashionGoddess

- - - - - - - - -



** We are not responsible for any type of personal use of the pendants or loss of items put into the pendant

** Any returns for custom pendants will have a 15% restocking fee

Feel free to ask me any questions!