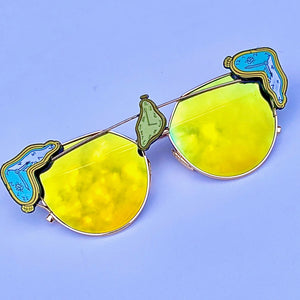 Salvador Dali Sunglasses
Regular price $67.99 Sale
Salvador Dali Sunglasses perfect for watching the time melt away! 
Time to get drippy and trippy in these psychedelic summertime accent shades featuring a few iconic melting clock charms adorning a brilliant gold mirrored lens sunglasses frame!
Have the perfect unique festival shades to show your personality and style!
Great for music festivals, rave and events! You'll be turning heads and everyone will want to know where you got these!

Show off to your friends, and it's a great customized gift for birthdays, or matching bachelorette parties or festival squads!


____________________________________________


Details:

* Adjustable nose pads, comes with a protective pouch sleeve.

* Some lenses available in other colors, mirror reflective or transparent options
* Customization is available

*** Please allow all custom glasses take 1-4 weeks to complete and ship depending on the charms and style you select. 


_______________________


*** Check out our Instagram page below to see pictures of the many different color and style variations to choose from.
Instagram: http://Instagram.com/stashnecklace
Main Instagram:  http://Instagram.com/ravefashiongoddess
Twitter: http://twitter.com/ravefshngoddess
Facebook: http://www.facebook.com/RaveFashionGoddess/
TikTok: http://www.tiktok.com/@ravefashiongoddess
Pinterest: http://www.pinterest.com/RaveFashionGoddess/


Feel free to message with any questions!

*Don't see a color with charms you like? I offer many others( which may take up to 2 extra weeks for shipping and creation)